KAPS: Daegu

Shelter Director(s):
Sue Kum CEO, Sunnan Kum Founder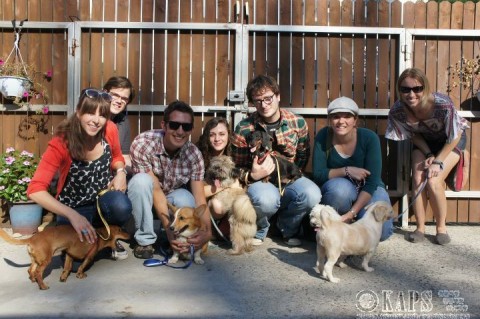 KAPS began when Sunnan Kum, KAPS' Founder, was adamant that her husband and children share the family apartment with five cats who desperately needed homes. Her husband disagreed and demanded that Sunnan do something. Sunnan obliged - by taking money from her husband's drugstore business and buying a house for the animals. That purchase has since grown into the Korean Animal Protection Society, which Sunnan has overseen since 1982. Her love for animals has manifested itself as two KAPS shelters:
A cat shelter, still in the Daegu house that Sunnan bought in 1982, holds 70 to 100 cats and a handful of dogs.
A dog shelter in Daegu can keep up to 80 small and big dogs. Previously located in the third and fourth floors of a building, the shelter moved down the street in October 2010 to a cleaner seven-room, first-floor facility with a fenced-in area.
KAPS works on behalf of the animal whom are discarded for a host of reasons: the abused, the dog meat trade victims, the stray, the relinquished... While these animals all come from sad pasts, we can help make their future bright by volunteering our time and resources to help the animals of KAPS.
You Can Help!
KAPS is thankful for all their volunteers and would love if you would like to join our team! Feel free to join KAPS' Facebook page and/or contact KAPS.Volunteering (at) gmail.com to learn more about how you can become involved. We need help both at the shelter - taking photos, grooming the animals, cleaning the shelter; and beyond - fundraising, transporting animals to a foster home, campaigning for animal rights... The ways to help are endless! Our volunteers are our greatest asset - we are so thankful for them!
For more about visiting the shelter, click here: http://www.koreananimals.net/kaps_shelter_en. For a full explanation of rules, more information about the shelter, and safety with animals, please see KAPS Volunteer Handbook.
Adopting or Fostering
Our Daegu Adoption and Foster Coordinators can be reached at the following emails...
KAPS.Adoption (at) gmail.com for more information on adopting.
KAPS.Fostering (at) gmail.com for more information on fostering.
The Adoption and the Fostering Application Process both take between 5-10 days. Please understand that KAPS Coordinators work full time jobs as they volunteer to help the animals of Korea.
KAPS Adoption and Foster Application Process can be found on our Facebook note. Our applications are to the right under "Forms to Download." Thank you for your interest!
We also have weekly videos created by a dedicated volunteer to tug at your heartstrings. Please consider our babies for adoption!
Animals Sheltered
Birds
Cats
Dogs (large)
Dogs (small)
Ferrets
Guinea pigs
Hamsters
Hedgehogs
Rabbits
Other
Getting Involved
Funds
Wet dog food
Dry dog food
Wet cat food
Dry cat food
Dog leashes
Collars
Cleaning supplies
Grooming supplies
Crates
Beds and bedding
Cat towers
Other
Donation Details:
Donations are always welcome and we thank you for improving the animals' comfort while they await forever homes. If you would like to donate any items, please feel free to drop the items off at the shelter during KAPS' opening hours. Or contact a KAPS Coordinator (please click "Contact Information" in blue above), or write on KAPS' Facebook wall, if you need more details about what we need and how to get it to us. Thank you!
Alternatively to donate money please visit our main page: www.koreananimals.net and click on 'Donation'.
Getting There
Need Appointment to Visit:
No
Hours of Operation:
9am-5pm Daily accept Mondays and Thursdays with lunch from 1pm-2pm
Directions:
KAPS' Daegu Dog Shelter and Cat Shelter are just down the street from one another in Daemyoung-dong. Please try to visit after 2pm - the morning is for cleaning, and the staff's lunch break is from 1pm-2pm. The shelter is open from 9am-5pm daily and you can dog walk every day but Mondays and Thursdays.
Find maps and directions to the cat and dog shelters here: http://www.koreananimals.net/kaps_shelter_en
Your First Visit
If it is your first time visiting KAPS, then we recommend coming along to one of our organised events, which you can find on our Facebook page (www.facebook.com/KAPSAnimals). We run monthly dog walks in the Spring and Autumn and bath days and other events in the Summer and Winter.
Please feel free to also familiarize yourself more with KAPS first by reading our Volunteer Handbook as you will find almost everything you need to know here! We appreciate you wanting to come and help. Thank you!
Links
Files to Download