About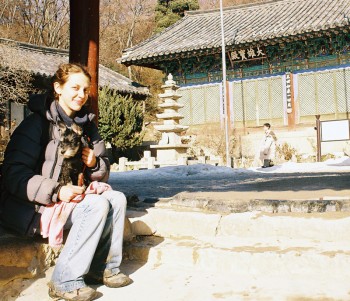 I started this site as a blog in 2006 while working as an English teacher in Daejeon.
I began simply by sharing stories and photos of a caged Jindo I wanted to help. As I began researching animal welfare, the links section grew and I hoped my blog could become both an informational resource and a meeting point for like-minded people. After hearing from dozens of animal lovers and rescuers across Korea and abroad, I added forums.
In 2007, I moved back to my home country, Canada, but remained determined to help an ever-growing network of people continue their rescue work. The blog was converted to a completely forums-based site at AnimalRescueKorea.org in January 2008. Three and a half years later, ARK had over 3,200 members and had helped over 1,000 animals find adoptive homes.
As online social interaction shifted to Facebook, I closed the ARK forums and converted the site to new software in October 2011 in order to improve the adoption listings. From that time until July 2014, ARK's adoption listings helped find homes for an additional 1,240+ homeless animals.
It's now been more than eight years since I first started working on this website.
While I hope my original goals of supporting rescuers in Korea have succeeded, it's now time for me to focus on projects closer to home. From September 2014, ARK's adoption listings will be closed. After that date, other content will remain accessible in a read-only archive.
To the rescuers, shelter volunteers, and animal lovers in Korea, I wish you only the best in helping the abandoned and homeless animals who all deserve a second chance at happiness. Your love and devotion is inspiring.
Sincere thanks for visiting,
Karen Busch
Screenshots of the website from 2006, 2007, 2011, and 2014.