Adopted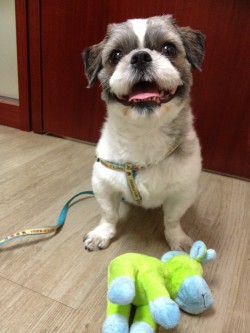 Final Update:
Lets welcome Murph, our newly named, newly adopted shih tzu!
His foster mom decided to adopt him :)
She has been super throughout the fostering process, helping me with his rabies vaccination, taking him on daily walks and just loving him to bits :) Although I was very scared of him ending up in a shelter or worse, I am glad to report that things worked out well in the end. Yay!
Update:
You can see a picture of him after we shaved his hair in the comment section below. He looks so tiny now! He aced his physical exam and he will be neutered this weekend. He is a very adorable little baby. Now that he has enough to eat and drink, he is a bundle of energy, always ready to go out on walks. He is friendly with everyone at the vet clinic, including the resident cat. The initial foster fell through, so he is still staying at the clinic. I was supposed to take him to the shelter because of the clinic's ten day rule. However, they are now allowing me to keep the dog at the clinic for nine more days.
I found a two year old Shih Tzu walking by itself near Hankuk University Station tonight. It was quite dirty and seemed to be walking nowhere in particular. I asked around and no one seemed to know where he came from. I have taken it to a vet clinic near Hongdae subway station because it was the only one that I knew was open late at night. Unfortunately, he has no ID chip. He was quite hungry but very calm and quiet. As soon as we fed him, he seemed very happy and relaxed. There was a lot of matting so he will be getting a haircut tomorrow morning. The vet clinic can only keep him for ten days so I would really appreciate it if people can share his picture or would like to volunteer to foster him. He is only 4 kilos and seems to have a really sweet disposition. In the taxi, he curled up against me and quietly slept the whole time. I will see him again tomorrow and post a before and after picture here.
Updated Jun 9, 2013
3373 Views