Advice needed on how to let go!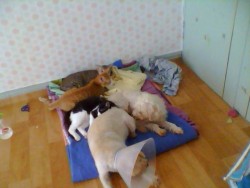 Around 4 or 5 months ago, I found a tiny kitten starving in an alley on Jindo. I took him home where he almost immediately bonded with me and my dog, Alexis. Not long after, I adopted another dog, Chloe. Not long after that, I decided to foster two more kittens, Quint and Brody, the same age as my own. Recently, I found a family who wants to adopt all three kittens.
In all possible respects, this family seems perfect. They have lots of space, both indoor and outdoor, for the cats to play safely. They have more than enough money to cover any future vet bills. They plan on taking them back to Switzerland when they leave in 4 years. One member of the family is a 10 year old boy who loves cats and is really wonderful with them. The cats would never be alone because there is always a cat-loving person at home. Perfect!
In spite of this wonderful situation, I am really struggling with the thought of letting them go. Intellectually, I know it's the best option. They can provide certain things for the cats that I can't (namely, outdoor space to play). And importantly, letting the cats go will mean I have more time and money to foster and help so many other deserving animals. My head is saying it's the right decision but my heart is REALLY struggling.
All my animals love each other SOOO much. They are so unbelievably full of love! I have the best team I could ever possibly hope for. They love each other; they comfort each other; they are there with hugs and kisses if one isn't feeling well... And, selfishly, I love having the kittens around. They have the best little personalities ever and they are such a blessing in my life. I always look forward to coming home and seeing them. Also, I wonder how the dogs will do without the kittens around and how the kittens will do without the dogs. And, I wonder if Chloe and Alexis would be willing to accept other dogs in the house when they are so accustomed to Gray, Quint and Brody.
There is so much going on in my head and I was hoping to get a little advice from others who have had similar struggles. How can I let go of animals that I have so thoroughly grown to love? I may not have a perfect home but I know they are happy here and surrounded by lots of love. It would be a gift to provide these guys a forever home. How can I just pass them off? HELP!! :)
Marla