A NEW YEAR, A NEW LEASE ON LIFE!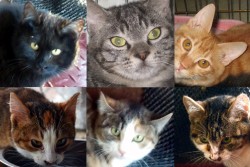 UPDATE: January 19
Wowee!!!! I received a very generous donation today from Richard who has just adopted my foster Bhumi! This means we have surpassed our goal of 1,000, 000 won!!! What can I say, A MILLION THANK YOUS AND MUCH GRATITUDE for all those who kindly and generously donated towards these expenses for the kittens! With your support we've been able to give them a fighting chance early in their lives! Thank you!
A quick update; unfortunately the time in the vet wasn't able to fully address their health needs but now they're in foster homes all the kittens are really now on the road to recovery. Button is gaining strength, playing with and charming her foster family; Pea and Bean are still a little shy and need some more care to tackle their herpes but their futures are bright!; Tiger is doing super well, mischievous and playful as always; Leopard's health has been a bit touch and go but will be starting some new medication next week but his health is looking up!; and Panther is healthy and well, building confidence with people and flowering into an extremely playful kitty who loves to chase our cats around the house!
All these kittens are some of the sweetest kitties you could ever meet! If you're considering or you know someone who is considering on sharing their life with a cat, why not consider these adorable fluffballs?!!!
***
UPDATE: January 12
Yay!!! All the kittens have left the vet and are now in various foster homes!! Due to the snowballing expenses it was urgent we found fosters by this weekend and with much luck some lovely lovely hearts and homes stepped forward! However, we still have the issue of settling the vet bill which we are currently waiting to hear what the final amount will be. For now though we we still aim to reach the 1,000, 000 won mark. So far we have raised a huge 815,390 won!!! So at this point we still need to raise the remaining 184, 610 won!
If you can, PLEASE SPARE A FEW PENNIES FOR THESE KITTIES! No donation amount is never small enough! Endless thank yous too to those who have donated already! You've enabled to give these kittens a fighting second chance they all really deserve! Thank you!
****
Brothers Tiger, Panther and Leopard, and sisters/brother Pea, Bean and Button are six 3 - 4 month old kittens who were recently rescued by a kind person from a municipal pound and taken to a non-kill shelter.
You can read more about each kitten here! >>> http://www.animalrescuekorea.org/adoptable-cats?f[0]=field_city%3A68
But at such a young tender and vulnerable age, these guys are all too susceptible to the bad gremlins lurking in a shelter environment, and recently with the onset of freezing subzero temperatures, it was no surprise that they have all contracted ear mites, mild colds and contagious eye and respiratory infections.
In order for all of them to heal and recover, some volunteers decided it was best to move them out of the shelter environment to escape these reoccurring contagions. Currently, these guys are boarding at a wonderful vet in Cheonan, where they are receiving medical attention, a warm bed and heaps of TLC! So much TLC in fact that one little formerly shy, feral kitty (Button) has come out of his shell and is seeking and devouring all the affection he can get! An amazing transformation to say the least!
But this boarding and care costs money...
THE MONEY SITUATION
At the moment the daily expenses for caring and boarding each kitten is 18,000 won, which has already been kindly discounted by the wonderful vet there.
These costs include the daily boarding fee, high quality food and medical care (daily eye cleaning, 2 sets of eye drops (anti-inflammatory and antibiotics) as well as medicine via injection.)
So far the expenses already incurred stands at 450,000 won.
WHAT IS NEEDED?
FOSTERS! ADOPTERS! SPONSORSHIPS! DONATIONS!
URGENTLY AND MOST IMPORTANTLY, we need FOSTERS AND/OR ADOPTERS to take one or more kittens into their homes in order for them to FULLY RECOVER AND START A NEW LIFE! It is possible to take one of these kittens into homes already with cats, as long as these cats are vaccinated and are not recently vaccinated.
The kittens will be ready to be released into homes TUESDAY JANUARY 8TH!
We are also seeking anybody who can SPONSOR one or more kittens and their individual costs until suitable fosters and/or adopters can be found!!
If it's not possible for you to sponsor, DONATIONS of any amount that could contribute towards their daily costs would be greatly appreciated!!
Ideally, we don't want these guys returning to the shelter environment and suffering a relapse of the same infections again. Thus we would like to board them at the vet until suitable FOSTERS/FOREVER HOMES will step up!
Our goal at the moment is to raise 1,000,000 won. This amount should cover the 6 kittens for their boarding, food and medical care for 10 days.
With the New Year just around the corner, please consider giving these kittens a happy new year and a new beginning in life!!
***********************************************************************************************************
* If you would like to FOSTER/ADOPT one of these sweet kittens please read the guidelines and send a completed application form to Daisy and Clare.
Fostering Guidelines >>> http://www.animalrescuekorea.org/blog/dbis/guideline-for-fostering-asan-...
Adoption/Fostering Application >>> http://www.animalrescuekorea.org/adoption-application
Contact >>> dbisenieks@gmail.com / clare_bell_mills@yahoo.co.uk
* If you would like to SPONSOR a kitten for 18,000 won a day for medicine,food and boarding please contact Daisy and Clare via email at dbisenieks@gmail.com and clare_bell_mills@yahoo.co.uk
*If you would like to DONATE, please send your donations to Clare.
Clare Mills
Korean Exchange Bank (KEB)
Account # 620-203339-430
or via PAYPAL to oosterpark@nate.com
*** Please be sure to send us an email at dbisenieks@gmail.com and clare_bell_mills@yahoo.co.uk once you have made your donation so we can keep track of the money and of course so we can thank you!!!
*TOTAL TO BE RAISED: 1,000, 000 won
*TOTAL RAISED SO FAR: 1,015,390 won
*STILL TO RAISE: 0
DONATIONS RECEIVED!
THANK YOU SO MUCH to...
Kate Carey
Kory Darlington
Bruno and Kathleen Cassiers
Mark Johnson
Christine Nott
Clare's Yard Sale Fundraiser
Kim Soyoun
Anonymous Donor
Asan Volunteers
Dani, Matt and Pax Curtis (Brown Jindo Brewery)
Richard Bretnall
Updated Feb 5, 2013
3074 Views