LOST — red Jindo OnYong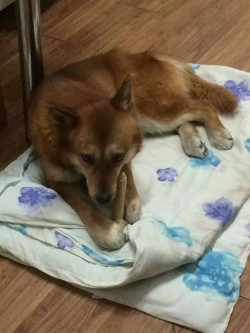 OnYong was lost in Suji by her pet sitter while I was away. She escaped near Jukjeon station Saturday night. She is a very skittish rescue dog but she's very sweet. We've notified all the shelters, animal hospitals, and police stations in the area and put up posters, but there's been no news. Please keep an eye out for her and tell everyone you know. She looks a bit like a red fox, is 1-3 years old, and is healthy and spayed. She's wearing a leather collar. There's no official ID on it but I taped her vet's number to it as a precautionary measure while I ordered tags for her so I can only hope it stayed on. If anyone in the Suji area or Bundang in general can help put up more posters, leaflet, or search for her, I would be hugely grateful. I'm going to print more posters this afternoon and cut up small versions to hand out to people while I walk around the area, and I'll also attach the files here if you are able to print some yourself.
Thanks for your attention.
Updated May 6, 2014
3696 Views