Fostering: A Guideline for Foster Parents of Asan Shelter Dogs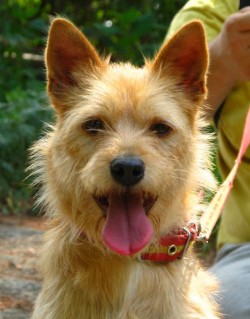 Fostering: A Guideline for Foster Parents of Asan Shelter Dogs
Thank you for making the selfless decision to foster a dog from Asan Shelter. Once a dog is placed in foster-care, the chances s/he will be adopted are drastically increased, making fostering one of the most important steps in helping a dog find his or her forever home.
Below are the guidelines and expectations of a foster parent who chooses to help a dog from Asan shelter. If you have any questions concerning any of the following information, please don't hesitate to contact Allison at allisondyoung@hotmail.com.
Bringing Your New Pet Home
Before you can bring your new buddy home from the shelter, you must have completed the following procedures:
Submitted a foster application and been approved by a coordinator. (This can take anywhere from a few days to over a week. Please be patient!)
Visited the shelter at least once to meet and interact with your potential new companion.
Upon fostering approval, fosterers must visit the shelter again to pick up their new addition. If you are traveling by public transportation, it is necessary to bring a suitably sized crate in order to bring your animal home with you.
Pay the assigned health-check fee to Mr. Park.
You *must* bring a collar with I.D. tag and separate harness and leash with you to pick up your new dog. If you do not have an I.D. tag complete with your current information, you will not be allowed to bring your dog home.
Vet Care
If you have chosen to foster a dog from Asan, chances are, s/he has already been tested for heart worm, given one round of DHPPL, vaccinated against rabies, and spayed or neutered. The shelter manager requires that before any dog is fostered or adopted from Asan, the health check is to be completed by his clinic in Daejeon. Great! It's still important that you visit your own vet shortly after bringing your new furry friend home. Some things you should ask your vet to do:
Check the dog's eyes/ears
Antibody/Titer Test to see if DHPPL boosters are required
Vaccinate for Corona Virus/Kennel Cough (Shouldn't be done too early after bringing your new dog home --- wait at least a week)
Fecal test
Internal De-worming
Check the dog's skin
Tick/Flea Treatment
Heartworm Prevention (You can either get an ingestible tablet such as "Heartgard," or a topical treatment such as "Advocate". This is something that your dog needs done every month in order to be protected against heartworm, which is extremely prevalent in Korea and very expensive to treat.)
Since the shelter lacks the funds to pay for vet care, foster parents are responsible for the brunt of the costs accrued for vetting. However, there are many vets in Korea that offer discount services for rescue animals, and we are always willing to provide a great list of vets to our foster parents. Furthermore, if the unlikely situation occurs where a foster animal will need an expensive procedure or treatment, we can sometimes help organize fundraisers/donations to help cover the cost, but fosterers should be prepared because there is never a guarantee.
Training
Since the main purpose of fostering an animal is to help him or her become more adoptable, it is important to teach your new buddy manners that are required to live happily in a home. Some things you should definitely work on with your foster dog:
Appropriate places to go the bathroom! (Crates work well for housebreaking new dogs, and a strict routine is helpful as well! See http://healthypets.mercola.com/sites/healthypets/archive/2010/05/12/four... for some great tips on housebreaking!)
Polite leash-walking! (Always walk your dog using a harness. Many shelter dogs are skittish, and if spooked can easily slip a neck collar. Harnesses are more secure and keep the dog in control. A neck collar should *always* be worn and have an I.D. tag with current information --- including your phone number --- attached. In the event that your dog ever runs away or goes missing, contact your adoption coordinator immediately!! *Please see the end of this article for steps to take if your dog goes missing.*)
Socialization with people and other animals. Many shelter dogs have had limited interaction with people, and would benefit from meeting new people on their daily walks. Bring treats along and encourage people to say hello to your dog by giving a treat. (If your dog is extremely uncomfortable around new people or situations, take things slow and don't force anything. Allow them to progress at their own pace.)
Some other things you might want to teach your foster dog in order to make him/her more adoptable are basic commands: sit, stay, down, leave it, etc. A polite, well trained dog is very appealing to someone looking for their new forever friend!
Promoting Your Foster Dog
Chances are, your foster dog probably already has an adoption profile on the ARK website. If not, we are more than happy to assist you in creating one! If s/he does already have one, it is up to you how you'd like to proceed. You can either take over "authorship" of the profile in order to update and edit yourself, or you can simply email pictures and updates to the current author and have them update it for you. We require weekly updates from our foster parents via email or updates to the profile. Some things that are really important in terms of generating interest for your foster dog:
Pictures, pictures, PICTURES! Pictures are the first things that attract a potential adopter to your dog. Lots of cute, colorful pictures that show your foster dog at his/her most adorable are very important!
Videos of your foster dog being cute, sleeping, and playing are also very effective in showcasing his or her personality. The more videos, the better!
Updates regarding housebreaking, behavior, and personality are a must! Let potential adopters know your foster dog's best qualities and strengths.
Keep the profile current with lots of updates and photos. Don't let their profile expire!
It is very important that you actively search for a forever home. It can take a long time to find the right match for your furry friend, but it is not fair to the dog if you don't proactively search, and all of a sudden he has no place to go when it is time for you to leave Korea. Keep profiles and pictures current, and promote him/her on ARK Facebook and your own Facebook page. Ask your friends to share and cross-post. The right home is out there, you simply have to find it!
Application Process
So you've put in the hard work, training, and time, and now comes the pay-off: someone is interested in adopting your little buddy! Asan Shelter has a strict application process that we require all foster parents to adhere to:
Anyone interested in adopting MUST fill out an application form. It's best to have potential adopters fill out the form before even meeting the dog in person.
After the form is completed, you and an adoption coordinator (the person you have been in contact with since the beginning) will screen the application together. Usually, there are follow up questions and clarifications necessary. The form must be approved by both yourself and an adoption coordinator from Asan before the application process can continue.
Once you and an adoption coordinator have approved the application, you should set up a time to meet the potential adopter in your home. It's best for people to meet the dog where s/he is most comfortable and most likely to behave like "themselves".
We do not usually recommend "same day" adoptions. Unless there are extenuating circumstances (such as the potential adopter living a long distance away) it's nice to give them a few days to really think it over, and time to prepare for the arrival of their new friend! It also gives you the chance to decide if the potential adopter is a good match for your foster dog.
If both parties decide to go through with the adoption, please let the adopter know that if anything, for any reason, at any time, does not work out, they are required to contact you and return the dog. Under no circumstances are they to re-home or give away the dog to anyone else. We will always take the dog back, no questions asked.
Keep in touch with the adoptive family. Updates, pictures, and videos of the dog in their new forever home are always welcome and encouraged!
Pat Yourself on the Back For a Job Well Done
Fostering is one of the most selfless things one can do in relation to animal rescue. You put in time, money, patience and love, only for someone else to reap the benefits when they adopt 'your' dog. Fostering is emotionally draining, but so worth it. Without amazing foster parents like you, many dogs would still be sitting in the shelter, rather than a comfortable, loving forever home. Thank you from the bottom of our hearts!
*****IMPORTANT: What to do Should Your Dog Ever Go Missing
Accidents happen, and even the most responsible of animal owners can be faced with the terrifying situation of losing a pet. Here are some absolutely necessary steps to take in the event your dog ever goes missing:
As mentioned above, inform an adoption coordinator immediately.
Inform all vet clinics in your area as soon as possible, and provide them with the animal's photo, description, and your contact information.
Have posters made ASAP and put them around your area the same day your pet goes missing!!! Posters can be simple: a photo of the animal, your name and contact information, and most importantly, a reward.
Ask your adoption coordinator to post a "lost" ad on www.animal.go.kr and to inform local pounds and shelters ASAP.
Look for your animal as often and with as many people/friends as possible. Don't give up!
There are also important precautions to take in order to prevent something like this from happening, and in the event it does happen, you can increase the chances of having your dog returned safely:
Your dog should *always* be wearing a collar with an up-to-date I.D. tag. Never walk your dog with the leash attached to the collar; use a harness instead. This is something so simple that can save your dog's life --- please do it!!
If possible, microchip your dog.
Make sure to lock your doors and warn friends to be careful about leaving doors open/ajar when they come to visit.
We can't thank you enough for choosing to foster from Asan shelter. Remember, if you need anything at all; support, advice, or simply want to chat about your foster dog, contact your adoption coordinator. That's what we're here for!
Updated Jul 4, 2012
8433 Views