Three years ago a struggling dog rescuer in Daejeon was facing eviction and a dedicated group of volunteers pitched in to help. Active outreach and effective social networking saved the "Daejeon 150," but eight Jindos from the original group are still waiting for real homes. Six are tethered in the shelter owner's backyard. Will they get a second miracle?
Jindo Island
Almost two years ago, I travelled to Jindo Island for free as part of a government-sponsored promotion. The trip was reserved exclusively for foreigners, and the organizers pampered us with cultural events and sightseeing opportunities. We got free air tickets from Seoul to Gwangju, a free bus ride to the island, free tours of an art museum and the home of Joseon-era painter Sochi. We watched traditional performers dance and play music at a local community centre and then they invited us to dance with them.
On the way back, the bus passed through Mokpo and stopped at a buffet with an impressive spread—nearly all of it suitable for the two vegans in the group.
But the main event was a tour of the famous Jindo dog training centre (also a breeding centre). We watched a very clever reddish dog perform tricks and unfurl banners. We cuddled puppies who looked like furry bear cubs—prized "national treasures" who would eventually have to be identified with microchips and fall under strict export regulations.
Korea spares no effort to promote its beloved dog breed, "National Treasure No. 53," and the Korea Jindo Dog Protection Support Act enshrines the specialness of these dogs in law. If you read through the legislation, though, it's obvious the intent is to protect bloodlines and not individual animals. The law covers registered, island-born purebreds only: without papers and a microchip, a dog who looks like a Jindo isn't a Jindo. The law doesn't mention what should or shouldn't happen to registered Jindos in the event that they lose their homes. To my disappointment, neither the organizers of the trip nor the trainers at the famous Jindo dog training centre knew of any rescue resources for homeless Jindos or Jindo mixes. 
My reason for taking the trip was to learn about Jindo dogs, and the people who love them, in the hope that someone on Jindo Island might know of some way to help a group of long-term shelter dogs. The performing Jindo at the centre looked a lot like one of my favourite dogs at the private shelter I visited occasionally on weekends, but the Jindo at the shelter was too nervous to do any tricks. When I met the puppies on Jindo Island I was surprised to discover that a few were already afraid of strangers. One cried when I tried to pick her up.
The shy dog at the shelter was a meat market rescue—that's what her original rescuer, Ms. Jung, told me about a year ago. Today she goes by the name Tanpoong, which means "autumn leaves." After at least two years in shelters, Tanpoong gradually warmed up to visitors and began going for walks. In November 2010, she left the shelter to go to a new home in Seoul. It wasn't an easy transition—Tanpoong had probably never been a family pet—but a year later, she's happy with a family that loves her.
Crisis in Daejeon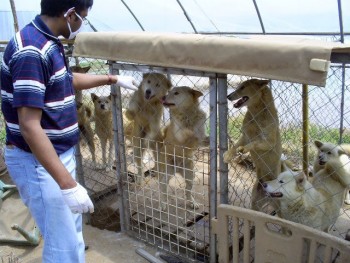 I first met Ms. Jung in 2008 when city authorities were attempting to force her off a property she was renting on the outskirts of Daejeon. Ms. Jung was an ordinary pensioner—she received no support from the government to run the shelter and wasn't backed by any official charity. She was a kind, impoverished individual who'd begun rescuing strays and buying dogs from butchers because she couldn't stand to see them go to slaughter, and she had more than 200 when the shelter was at its fullest. Tanpoong crouched fearfully in a pen at the back.
The eviction crisis generated significant publicity, and volunteers (many of them foreign) rallied around Ms. Jung to prevent a mass slaughter. Many dogs went into foster care or got adopted, and the district office extended the deadline until the remaining dogs could be relocated. The total was down to 150 when the story made the news in Korea's English-language media.
In December 2008, the volunteers' hard work paid off. There were about 70 dogs left, and a rescuer in Asan agreed to take them. About 25 people gathered to help move the dogs to Mr. Park's mountainside shelter and we all thought it was a miracle. When I wrote about the Daejeon dogs in the months after the move to Asan, that's what I emphasized: volunteers saved the dogs from a cruel death in a government pound.
Ms. Jung was facing back surgery and couldn't take any dogs with her, but she visited the dogs in Asan every week for more than a year. Then in March 2010, she decided to start a new shelter and move her dogs back to Daejeon. By that time many dogs from the original group had been adopted, a few had died, and Ms. Jung still had no space for the largest dogs.
Birth of Daejeon Paws
I went to Asan that day in March: 29 little dogs had to be cornered and captured in the outdoor pens where they'd spent the past year, a task that took time and patience because most were poorly socialized. Mr. Park, his assistant and a few volunteers caught the dogs and transferred them to wire cages so they could be loaded onto the back of a Bongo truck. I rode along with two other volunteers: Hyunjoo sat in the back and Sofia and I sat up front with the driver, a little old dog in each of our laps.
Ms. Jung's new shelter, Daejeon Paws, sits on the edge of a nice residential neighbourhood. An apartment complex is a short walk away and there's usually plenty of activity in the streets: children playing, families out walking. But on the hill where Ms. Jung lives with the dogs, it's much quieter and some of the houses look burnt out and abandoned. Last winter I noticed that one building behind Daejeon Paws was cluttered with old farming equipment and there was broken glass on the ground. On subsequent trips, I stuck to the main roads.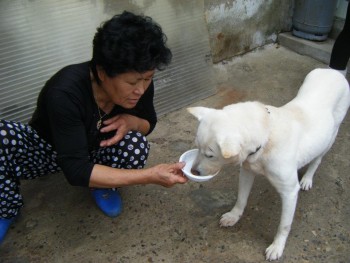 The modest accommodations at the new shelter are a big improvement over the outdoor pens at Asan, and the dogs are caged part-time to prevent fights. A Korean supporter lets Ms. Jung live in the house rent free, and it was Korean volunteers who built the outdoor pens for the big dogs. They call her Auntie. When foreign volunteers visit, they bring toilet paper and pee pads. She hugs them and says "thank you" in English.
At last count, Ms. Jung had about 60 dogs and two cats including an accidental litter of puppies. Normally the male dogs are sterilized but the females are not. Somehow, a recent rescue got loose before his surgery.
Ms. Jung does what she can to keep the place nice—she puts houseplants up on shelves where the dogs can't reach them, and the walls are pink. When I last visited in November 2011, volunteers were hanging new wallpaper in an upstairs room I'd never seen before (the one where the two cats live). There were a few messes on the floor, but each time Ms. Jung beat me to the roll of toilet paper. She's used to picking up after the dogs, she does it patiently, and she has enough stamina to do hard physical work—but with so many dogs to care for, it's impossible to housetrain them.
Ms. Jung sleeps on a high platform next to a couple of small antique Korean chests. When I went in I found two new white dogs there—a blind Pekingese, and a sweet Maltese mix who greeted me with silent barking. In a fenced-in corner on the floor was a little blind dog—the only survivor, I think, of the three oldest dogs who moved to Daejeon Paws in March 2010. Ms. Jung picked him up in her lap and put handfuls of canned food directly in his mouth. He won't eat otherwise, she told me.
The Daejeon Jindos
Through Hyunjoo, Ms. Jung has told me all the Jindos were meat market rescues: despite her own poverty, she purchased 14 of them on different occasions between 2005 and 2007. Some were already in the hands of butchers; others were on trucks; others were about to be sold to markets. About a year ago, Ms. Jung went back to Asan to reclaim the eight who still hadn't been adopted or taken into foster care.
A mother and daughter pair share the only enclosed pen in the front yard. The wooden pens to the side of the house have no doors or latches, so the other six Jindos are tethered to prevent fights. One Jindo, Samsuni, was in a fight at the Asan shelter and has a split lip that will never completely heal. Vanilla, the most dog-aggressive Jindo in the group, lost an ear in a separate fight.
Since the last time I visited, Ms. Jung had taken in two more dogs from a local dog meat supplier. Both dogs are very friendly—a large mixed-breed named Boksil now lives in the house with the smaller dogs, and a stocky extra-large dog named Mideum is chained in a corner in the front yard.
Hyunjoo told me Mideum is a traditional "yellow dog," bred to be meat. Hwindong, the medium-sized dog who fathered the puppies, repeatedly teased Mideum when I was there but Mideum showed no reaction.
Compared with other private shelters in Korea, conditions at Daejeon Paws are probably well above average—so many "shelters" seem to be the work of kind-hearted individuals with few resources and no real plan. Many of the little dogs here are elderly or very shy—for those dogs, staying with Ms. Jung for the rest of their lives may be the happiest ending possible. Still, four years after the Daejeon 150 became famous, it's sad to see six Jindos (and one new dog) chained up and living outdoors.
Tanpoong's adoption last year was one of several success stories involving Ms. Jung's Jindos. Hayley left Asan in 2010 after at least three years in shelters and instantly housetrained herself. In Hayley's adoption post on Animal Rescue Korea, her foster father Martyn described her as "very clever and very well adjusted despite all the crap and isolation she's had to put up with." After months of working to gain her trust, Martyn placed Hayley in a permanent home and she now lives in the United States with another rescued Jindo.
Jinger and Copper were both taken into foster care in 2010, but their foster mother couldn't give them up.
It all started when a few Asan volunteers used the ARK message board to send an urgent request for help. Jinger had been attacked by another dog, and the volunteers were worried that her wounds might get infected. After some discussion, Vicki Madsen agreed to take Jinger home to recover.
Vicki was in Korea as a military spouse, having left her own two dogs in the United States in her mother's temporary care. She had no plans to adopt a dog during her time here—but she recently returned to the United States with four new rescues, including Jinger and Copper.
Copper (a white Jindo named after the colour of her eyes) was set to fly to the United States for adoption and was in foster care undergoing heartworm treatment. When Copper's first foster mother had to leave Korea, Vicki couldn't stand the thought of the gentle dog having to return to Asan. There was one complication: Vicki's husband had just rescued a dog himself.
"Three dogs?" he asked her.
"My husband finally gave in when I agreed he wouldn't have to care for her at all," Vicki said soon after the new addition. "It would be all my job. Of course that went by the wayside. He helps me take them out and feed them and everything and he's trying to work on her so she isn't as afraid of men."
But Vicki also worried that Copper would have a hard time adjusting to another home if she stayed with Vicki's family for much longer.
"Jinger trusted easier than Copper does," she said, "and that's not saying a whole lot."
In the end, the planned adoption fell through and Vicki couldn't give Copper up either.
"If I could take them all I would," said Vicki of the Jindos still at Daejeon Paws. "Especially after seeing Jinger blossom the way she has. She used to be afraid of everything—and I do mean everything. Now it is almost like she is smiling all the time, she plays with Toby nonstop some days, isn't food aggressive anymore now that she gets plenty and even gives my husband doggie kisses—we had to teach her how to do that. I really don't think she had ever been loved too much. She even lifts her leg automatically when we pet her for belly rubs—she used to growl if we touched any part of her but the top of her head."
Preparing for challenges
Kristen Edmonds, founder of the New York City-based Jindo rescue group Treasured K9s, warns potential adopters to be prepared for an adjustment. In an article posted on the group's website, she says problems could include fear aggression, escape attempts, territorial behaviour and a high prey drive. In an interview conducted via Skype, Kristen told me about Treasured K9s' strict adoption screening process.
When Kristen rehomes a dog, she checks references thoroughly and asks the would-be adopter a gruelling list of questions. They include what the person would do if a rescued Jindo bit. ("Dogs should never bite people!" is the wrong answer.) At the same time she praises Jindos for the traits that make them so special: they are extremely loyal and intelligent, they rarely bark, and it's not unusual for Jindos to housetrain themselves as Hayley did.
Because they've been waiting so long, last year Daejeon Paws volunteers discussed placing some of the Jindos in North America and Ms. Jung indicated she was willing to send them. But international travel is expensive, and the dogs would compete with local dogs for homes.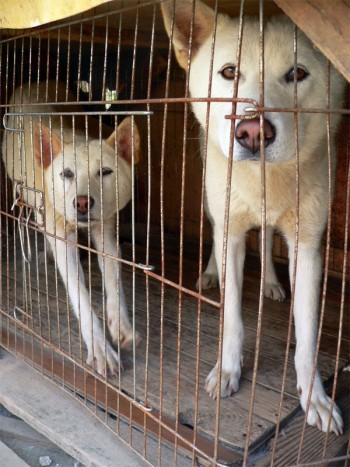 Jindos' most desirable traits often don't show in U.S. animal control facilities and admission to one is usually a death sentence, Kristen said. She can only help a very limited number of dogs each year because foster homes are so scarce. When she does pound rescue, she rarely accepts Jindos older than 2 because they take so long to get adopted.
As it turns out, two applications came in from the United States and Kristen helped Daejeon Paws with the screening process. Kristen decided one of the applicants wasn't the right fit for a Daejeon Paws Jindo—a young man who was just starting his career and living in a rented apartment. She approved an adoption to an older woman whose own Jindo had just died. Ultimately, however, both applicants decided to rescue Jindos who were already in the United States.
Before she left Korea, Vicki was hoping to make rescue connections in the United States and find homes for the Jindos still waiting at Daejeon Paws. She knows it won't be easy, but Jinger and Copper have turned Vicki into an outspoken Jindo advocate.

"I really, really want them to find homes and get out of that shelter," said Vicki. "But they have been in that environment a long time. They are older dogs, which is also a factor. My husband and I were willing to take the bad for a while to have such an amazing pet now. BUT we are both MEGA HUGE dog lovers who gave 500 percent to Jinger. If anyone else would have taken her I am afraid she probably would have ended back up in that shelter because of some of her behaviours. I just want people to know and for them to find their perfect forever home."
Written by Eileen Cahill.
Please see the links below for an article on the Daejeon dogs after the move to Asan in 2008, more information about Jindo dogs, and Korea's efforts to promote the breed.