Travelling with a pet can be easy if you're prepared. Although my experience has been flying with dogs between Canada and Korea, many of the links below and all the basic steps will be useful for other nationals with other types of pets as well.
Long Before Your Trip (more than a month)
Get a crate
Not a wire mesh crate, but a solid one with ventilation on three sides and a lip around the periphery to prevent anything from blocking the vent holes. The "pet" sections of airline websites describe the requirements in detail. ARK's link directory has lists of online pet supply shops where you can buy a crate.
Get your pet used to the crate
A crate should be a place she likes, not a place for punishment. Dogster and Catster have great articles about crate training dogs and crate training cats.
Research pet immigration rules
Each country has different requirements concerning health documentation and vaccinations for cats, dogs, and other animals entering the country. Government websites are the best (most current, accurate, and authoritative) source of information. The pet importation category of ARK's link directory can help.
Research airlines
Choose an airline that allows small pets in the cabin or has a temperature-regulated room for animals in checked baggage (most do, ask anyway). Each airline has different weight limits for in-cabin travel, different prices for various crate sizes, etc. Check the "pet policy" sections of airline websites carefully and call them.
Research flights
Find a direct flight to your destination, if possible, to minimize the risk of injury on the tarmac and/or loss during a stopover. Avoid travelling during temperature extremes. Consider the weather at both your departure site and final destination. Be aware that some airlines have pet travel embargoes during summer and/or winter holiday seasons.
Talk to your vet
Inform your vet that you will be travelling in the next few weeks and that you will be asking for some documentation in the near future. Make sure your pet is healthy and will remain so until travel time. Be up-to-date on all vaccinations, most importantly, rabies.
At the Time of Booking
Reservations
Reserve your pet's space on the flight at the same time as you book your flight. The number of animals per flight is limited, so do this as far in advance as possible. You'll have to specify the breed, the size/weight of your pet, and the dimensions of your crate.
Check airline requirements
Airlines may require documents in addition to the documents required by the destination country. Ask about the airline's specific requirements regarding your pet's health documents. Some airlines require a health check within 72 hours of departure, some less. Be sure you know exactly.
A Few Days Before the Flight
Visit your vet
Visit your vet within the time frame set by your airline. S/he should perform a basic check-up and provide you with a health certificate stating that your pet is healthy to travel as well as the date of your last rabies vaccination, the type of vaccination used, and it's validity [NOTE: this may be combined into one document or issued separately]. The charge is around 15~20,000 won per document.
Photocopy your documentation
Make copies of all your pet's documents for yourself and keep a set with you in your carry-on luggage.
On Flight Day
Avoid tranquilizers
Drugs are not recommended because they react differently at altitude. Instead, exercise your dog in advance of your flight so that s/he will be tired out and less nervous on flight day.
Prepare the crate
Make sure your pet's crate does not contain anything she can choke on or get hooked on. Don't keep her collar on during travel. Make sure the crate contains:
an absorbent blanket or towel to cover the floor
a non-spillable water dispenser
two portions of food taped to the outside of the crate in case of delay
a safe toy (nothing she can choke on)
a shirt or something that smells like you to comfort her
pet ID fixed to the door of the crate with: your name & contact info + her name/ breed/ sex/ age/ distinctive markings + a recent photo of her
Feeding considerations
Feed her several hours before the flight to avoid tummy upset, and follow any advice from your vet about what would be an appropriate amount to feed on flight day.
Airport arrival
Arrive at Incheon airport early: add an extra hour to the time you'd arrive for yourself alone.
Quarantine inspection
Go to Animal Quarantine on the 3rd floor (Room 3037). Show your vaccination and health papers to the inspector there, who will exchange them for official customs documentation. Pay the inspection fee and get the new form. Read more about Incheon Airport quarantine office hours.
Inspection Fees (July 2007):
Dogs and Cats: 10,000 KRW
Rabbits and Poultry: 30,000 KRW
Other: 20,000 KRW
Check-in
Go to check-in and pay your pet's flight fee, give them the new documentation. Get baggage tags for the crates.
Potty break
One last bathroom break might be nice. If you've arrived early enough to walk the pooch, go down to the ground floor and into the parking area. Ask at the information desk where you can find some grassy spaces and trees for shade.
Pet check-in
Pet check-in is at over-sized baggage. When we went, they taped up the crate for us then we said our last 'bye before they wheeled off the pets to board.
Confirmation
After you board, confirm that your pet was loaded onto the airplane by asking a flight attendant. If they look bewildered, ask a different flight attendant.
Declaration
Declare your pet on the customs card before arrival.
Upon Arrival
Line up
If you're going to Canada, get ready to wait in an extra line up for an Agriculture Canada inspection. You will have to pay an inspection fee. Assuming you have all the necessary paperwork, there is NO QUARANTINE for entering Canada.
Real greetings outside
Have poop bags, leash, and treats ready for as soon as you open that crate door... outside the airport in the parking lot.
Returning to Korea?
New documentation
If you're returning to Korea you will need updated health papers from a local vet. Be prepared to pay more than what you paid in Korea. As long as your documentation is in order, there is NO QUARANTINE necessary for entering Korea. Make sure this information is current by checking the Korea's Anlmal and Plant Quarantine Agency (QIA)'s English page
Bringing cats and dogs to the Republic of Korea (link updated June 2013).
Avoiding quarantine
If you bring a pet into Korea without the proper papers, your pet will have to stay in quarantine at Incheon for a minimum 7 days at a cost of 30,000 won per day to you. (This information is not verified, but a friend told me about her terrible experience). During the pet's quarantine, don't expect her to be cleaned or exercised. Please avoid that situation at all cost. Again, please verify this information with QIA.
Different Country? Different Type of Pet?
Check out the pet travel links below for pet transport companies, government websites about pet importation to the US, UK, EU countries, Australia, New Zealand, South Africa, etc., as well as general pet travel tips.
Did I forget anything? Do you have updated information? Post below to let us know. Thank you and happy travels!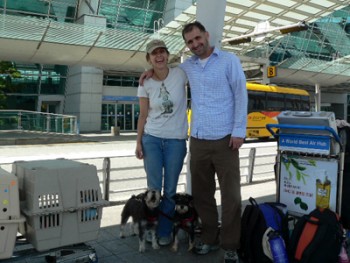 Written by Karen Busch and originally posted in the ARK Forums in 2008.