NOTICE: ADOPTION LISTINGS CLOSING
July 15: No new content allowed (comments excepted). Registration closed.
August 31: No additional edits or updates.
September 1: Adoption listings closed. Commenting and login closed.
After Sept.1: Access to read-only content (Adopted Gallery, Articles, etc.)

Read More
A long term pet sitter need for my dog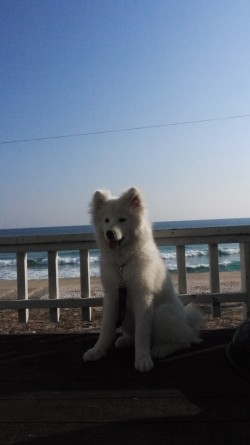 I have a girl who always liked dogs. However, I wasn't able to get one because my family doesn't like it.
I was really lucky and happy that my boyfriend purchased me a dog as a present for our aniversary.
I have a samoyed 13kg? I really take her as my baby. It is not easy to take care of her because it is my first pet. And i never thought of giving her up...
Because of some reasons, I have to go back to America for one year. I can't bring her with me because my family in America don't allow her. I wasn't able to find any place or any people who can take care of my dog since she is medium to big dog. And as you know, in soeul, many places are smalls for them. Also, pet hotel are really expensive. I can't afford paying a one year fee for that. So I asked my bf who is living in korea to take care of her. However, because he is super busy and my dog is making a lot of mess at home, he has a lot of stress and it's too overwhelming. Just 3-4 months I left korea, because of my dog , he even got a bicycle accident while he was with my dog and he needed a surgery in elbow making him his left arm disabled...
He never blamed me for leaving the dog with him and he says he will try his best to care for me.
I feel really sorry for him and I feel so bad and selffish to leave my dog for him to care alone.
I can understand his stress because I spend a lot of time to play and care my dog.
Mainly he works over 10 hours a day....after home he sees how my dog sometimes make mess... it gives him headache...
Therefore, I have no choice but to be able to find a pet sitter for a period of one year..~
If I can't find, I need to find an adopter...
I really need someone who is kind and willing to help.
To be honest, it is not hard to care her.
I have everything you need, cage, leash, foods etc...
I can may the food fee and some fees as well!
I am really waiting for someone sincerely, who can take care of her.
I am just afraid my bf friend decide to leave her on the street. I really don't want that to happen..
PLEASE e-mail me
Updated Jun 9, 2013
1230 Views