Busan Abandoned Pet Sanctuary (BAPS)

Shelter Director(s):
Leo Mendoza and Jin Young Shin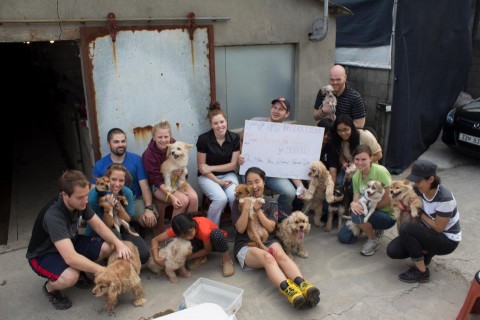 BAPS began in 2008 when four kind-hearted people took over 120 dogs that had been abandoned by a hoarder. There are currently 26 BAPS dogs, some of those in foster care. Over 100 dogs have been adopted from BAPS and many are all over the world! Volunteering consists of walking the dogs and then playing/cuddling/bathing/brushing them if you'd like. Please contact me if you'd like to volunteer, or go to the facebook page (https://www.facebook.com/shindogs) and join the weekly events.
BAPS is a no-kill shelter and entirely volunteer funded.
BAPS also has a sponsorship program. Anyone interested can give 200,000 won for a dog to have their full health check, be neutered or spayed, and get any necessary dental work. If you are interested in sponsoring one of our dogs, please let me know!
Animals Sheltered
Dogs (large)
Dogs (small)
Getting Involved
Funds
Wet dog food
Dry dog food
Food and water dishes
Dog leashes
Collars
Cleaning supplies
Grooming supplies
Crates
Beds and bedding
Donation Details:
Paypal Account:
daniel4jin@yahoo.com
name: Ligia Mejia
Korean Bank Account:
Bank: KB Bank (Kook Min)
Account: 126302-04-048456
Name: Shin Jin Young
American Bank Account:
Via Credit Union
4505 S Adams, Marion, IN 46952
ABA number: 27 49 75 152
Account number: 502000
Name: Ligia Mejia
Getting There
Need Appointment to Visit:
Yes
Hours of Operation:
Directions:
Please contact us for directions! Secret location.
Links